Third Printing of Chief of the Chiefs!
Used in college and university classrooms, we sold out the entire first two print runs. But the third printing of
Chief of the Chiefs: Louis Rooks Bruce, Mohwak/Sioux, Commissioner of Indian Affairs and Lobbyist
has arrived from the printer!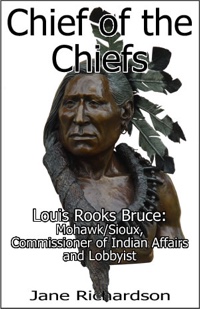 In
Chief of the Chiefs
you will learn how Louis Bruce elevated the status of all American Indians: their health, housing, education. Discussed are the similarities and differences in customs, cultures and lifestyles of his parents' Mohawk and Sioux backgrounds; while other tribes are covered, as well.
Visit the reservation of his father; join him working his way trough high school and college, becoming a pro baseball star pitcher, a dentist and a Methodist Minister. Teaching his son to honor their Indian heritage, the junior Louis heads New York's Civilian Conservation Corps (CCC) during the Depression, meets First Lady Eleanor Roosevelt, and "the ball gets rolling." He becomes Consultant to six U.S. Presidents, FDR through Ford.
President Nixon appoints Bruce Commissioner of Indian Affairs where he transforms the Bureau from a management agency to a service organization. Real drama occurred during that period with the takeover of Alcatraz; of the Bureau building; and of Wounded Knee. His consultanting firm rounded out his glowing career as he continued helping his fellow American Indians.
Lively contributions from young and very old Indians, White House staff, politicians, American Indian activists and family keep the book moving across the land, visiting longhouses, teepees, men and women at work, children at play - to the political arena. Over one hundred illustrations, letters and documents are included.
This is Richardson's twelfth book; her fifth biography.
Learn More